We're constantly rolling out new features and improvements, but two of the more exciting ones this week are the ability to add custom top level categories, and send your budget to someone else via email.
We're heard about a million of you say "I want to add custom categories, not just custom sub-categories!". Well, we give in. Now you can add custom top level categories too. But not so quick! If you are linking your bank account, we still recommend you use the default ones.
This is because those are the primary categories we use for our automatic categorization of expenses. Sure, you can create rules for recategorizing to your custom categories, but long term we still think it will be better to use the default categories.
To add a new top level category, just click the "Add New Category" button at the bottom of any category list.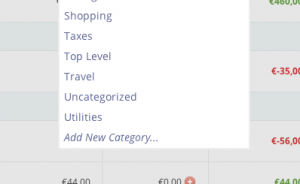 Another thing you've told us is that you want to be able to send your budget to others (a spouse, a financial advisor, your parents, etc…). That's where the new budget email feature comes into play. Simply hover over the "Share" button at the top of your budget, and select the "Email" option.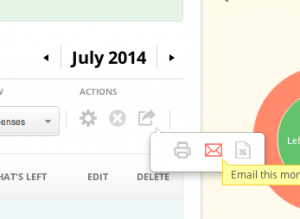 This will send a high-level snapshot of your budget to someone else. Ie, only the amounts budgeted and the amount spent in the various categories, not the specific details of the spending.
Finally, you'll also notice the "Export to Excel (CSV)" feature is now available to all users. Since we're allowing you to import CSV data from any other data source, we figured we'll return the favor and let you export your data too. Keep the requests coming!