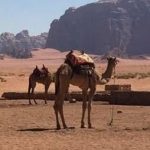 About Along the Camel Ride:
I started writing my blog months before I finally published it on September 1, 2018. After discovering the FIRE movement, I read numerous blogs and loved them, but I couldn't find any written by single woman. It seemed like everyone was married and/or worked in tech and that didn't represent me. Even though I found my favorite blogs incredibly informative and so valuable, I knew others could identify with me and I wanted to write for them. The post here embodies my thoughts, feelings, and experiences around the time I started this blog. The responses I received assured me I was not alone in this struggle and that plenty more shared my thoughts and feelings.
Recent Posts from Along the Camel Ride:
Loading...