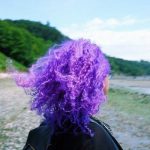 About A Purple Life:
I came up with the name "A Purple Life" a little randomly. To me, "A Purple Life" means a slightly different life, a life that involves constant questioning instead of going with what you're given. It's doing what makes you happy even if that makes you stand out or seem weird to people. It's following what's in your heart no matter what.
Recent Posts from A Purple Life:
Loading...