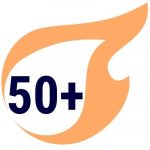 About 50 Plus on FIRE:
We are Todd and Wendy Christensen (aka 50+ and 50-), an average couple on an extraordinary journey from mediocre finances to Financial Independence to Retire Early (FI/RE). As a couple, we don't want to retire on Social Security and a limited IRA. We have committed to eliminating ALL our debt by our late 50s and early 60s while building passive income streams that will permit us to pursue a meaningful life outside the 8-5 workday.
Recent Posts from 50 Plus on FIRE:
Loading...